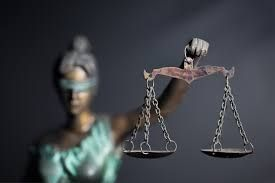 Inhale!
Exhale!
Whuuush. Woooo.
Lady Justice lies crumpled in a comatose state plugged into a PPE. Sprawled in a bed of hypocrisy due to a historical U.S. pandemic of racial injustice. She was found with her blindfold around her throat, as though lynched. Her scales were used as phallicist of perversion to molest justice.
The light blue cup suctions inward as she slowly inhales. It releases after a long exaggerated exhale.
Whuuush. Woooo.
The beep... beep... beep... of blood pressure and heart monitoring devices linger like smoke in a back room chamber where judicial political decisions are made. Justice fights for life to artificially live--in the Black and Brown community.
Ahmaud Arbery was Black! Ahmaud Abery is dead!